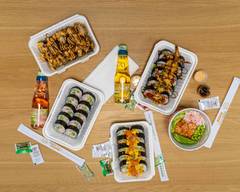 Location and hours
2990 Commercial Street Southeast, Salem, OR 97302
Every Day
11:00 AM - 08:45 PM
FOOD (DD/GH)
11:00 AM - 08:45 PM
DRINKS (DD/GH)
Picked for you

Sides

Sushi Rolls

Vegan Pump Roll

Black Panther Roll*

Always Sunny Roll*

The Ocean Bounty Roll*

Spicy tuna and cucumber, topped with tempura shrimp, green onion, sesame seeds & eel sauce.

*This product contains raw or undercooked seafood. Consuming raw or undercooked meat, poultry including eggs, and seafood may increase your risk of foodborne illness.

Roll Your Own Way!

Tempura shrimp &cucumber, topper w.BBQ unagi,,green onion, sesame seeds&eel sauce

Poké Bowls

Aloha Bowl

Hot Tropic Salmon Bowl

Build Your Own Bowl

Undecided? Build your own creation from everything available in the kitchen!

Spring mix and sushi rice, Japanese fried chicken, cucumber, avocado, seaweed salad, tempura crisps, green onion, and whussabi sauce.