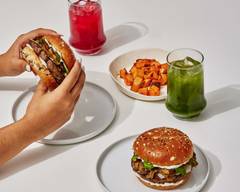 Location and hours
700 S. Rosemary Avenue, 112, West Palm Beach, FL 33401
Sunday - Thursday
10:30 AM - 9:00 PM
Friday - Saturday
10:30 AM - 10:00 PM
True Food Kitchen (Rosemary Square)
4.9 (144 ratings) • Healthy • $
  •  
More info
700 S. Rosemary Avenue, 112, West Palm Beach, FL 33401
Enter your address above to see fees, and delivery + pickup estimates.
Picked for you

Utensils

Need utensils with your order?

Refreshers & Tea

Sparkling Prickly Pear Tisane

Hot Beverages

Adaptogenic Hot Chocolate

Starters

Wild Caught Tuna Tostada*

Roasted Brussels Sprouts, V GF

Truffle Honey & Squash Flatbread, VEG

Charred Cauliflower, V GF

Salads & Bowls

Teriyaki Quinoa Bowl, V GF

Spaghetti Squash Casserole, VEG GF

Pizzas

Roasted Butternut Squash, V

Burgers & Sandwiches

served with choice of kale salad or sweet potato hash / substitute gluten-free pita or bun

Vegan Double Cheeseburger, V

Grilled Chicken & Mozzarella Panini

Grilled Chicken Avocado Wrap

Entrées

Bone Broth Chicken Ramen*, GF

Grilled Sustainable Salmon*

Grilled Korean Steak*, GF

Sides

Side Seasonal Vegetables, V

Desserts

Flourless Chocolate Cake, VEG GF

Cookies & Ice Cream, V GF

Chocolate Chip Cookie V GF

Half Dozen Chocolate Chip Cookies V GF

Baker's Dozen Chocolate Chip Cookies V GF

Meal Prep

Kids

Kids Mozzarella & Organic Tomato Pizza, VEG

Kids Chicken Teriyaki Bowl, GF

Kids Marinara Noodles, VEG

DISCLAIMER

V Vegan | VEG Vegetarian | GF Gluten Friendly

While we offer items prepared gluten-free, other items containing gluten are prepared in our kitchen. Some ingredients may not be included in the menu description; please notify us of any food allergies.

*These items may be served raw or undercooked. Consuming raw or undercooked meats, poultry, seafood, shellfish, or eggs may increase your risk of foodborne illness, especially if you have certain medical conditions.