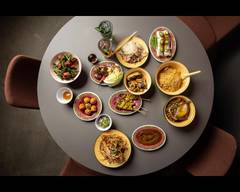 Location and hours
1638 Sawtelle Boulevard, Los Angeles, CA 90025
Sunday
01:00 PM - 09:15 PM
Monday - Thursday
11:30 AM - 09:15 PM
Friday
11:30 AM - 09:45 PM
Saturday
01:00 PM - 09:45 PM
Tuk Tuk Thai (LA)
4.8 (500+ ratings) • Thai • $$
  •  
More info
1638 Sawtelle Boulevard, Los Angeles, CA 90025
Tap for hours, info, and more
Enter your address above to see fees, and delivery + pickup estimates.
Picked for you

Snacks

Thai Wings / Sriracha Sauce

Szechuan Brussels Sprouts

Kanom Jeab
Open-face steamed pork and shrimp dumpling drizzled with a sweet and savory sauce.

BBQ Pork Skewers / Moo Ping

Marinated with garlic, cilantro root, fennel, and black pepper in oyster sauce - sweet chili cilantro dipping sauce

Marinated in coriander seeds, whole cumin, and fish sauce -umami jaew dipping sauce

Shrimp and scallop in spicy green curry sauce


Vegan Snacks

Crispy Tofu / Thau Hou Tod

Crunchy Taro Crisps / Puerk Tod

Secret String Beans

(previously "Szechuan String Beans")
"Wok-fried with shredded preserved cabbage in dark soy and roasted chilies


Crispy Spring Rolls

Poa Pia Tod
Shredded cabbage, black mushrooms, mung bean noodles and carrot - sweet chili dipping

Curry Puff / Garee Pup (2)

Flaky pastry with savory Thai curry filling - spiced curry dip


Soup

Tom Sab Beef Shank

Braised beef shank, lemongrass broth with tamarind juice, dried chilies, roasted rice powder, red onions, mushrooms and cilantro

Fire Thai Salad

Green Papaya Salad
Shredded green papaya pounded with bird's eye chili, garlic, PEANUTS, long beans, tomatoes, fish sauce, lime, palm sugar, and tamarind juice. Served with cabbage and greens.


Isan-style chopped meat salad flavored with fish sauce, lime juice, roasted ground rice, fresh herbs, and dried spices. Served with raw vegetables.


Marinated grilled flap steak tossed in chili lime with cucumber, grape tomatoes, shallots, mint, and cilantro.


Pork Belly Perfection

Crispy, tender pork belly paired with our iconic pad thai.


Wok-fried Water Spinach (Ong Choy) and pork belly with roasted chili, garlic, and soya bean sauce serve over rice

Holy basil and pork belly with garlic, chilies and chopped green beans serve over rice


Wok-Star Plate

Garlic Black Pepper / Gratiem

Chili Holy Basil / Grapow

Dry red curry paste with crunchy green bean and kaffir lime. Served over rice. (no vegan option available)

Cashew Nuts Roasted Chili

Mamuang Himapan
Sweet onions, carrots, green onions, dried chilies and roasted chili jam, (no vegan option available)

Seafood medley with garlic, chilies, fingerroot, green peppercorn, kaffir lime, and holy basil. (no substitution)

Wok Fried Rice

Khao Pad / Thai Fried Rice

Heavenly Beef Curry Fried Rice

Seafood lovers have to try this! Shrimp, squid, cod, scallop, cabbage, egg, and shrimp butter. Served with a lime wedge and chili fish sauce.

Chopped meat, holy basil fried rice with garlic, Thai chilis, and jalapeno for some heat.


Wok - Noodles

Pad Kee Mao / Drunken Noodle

Wok-fried smoked flat rice noodle, egg, Chinese broccoli, salted soybean paste, light and dark soy sauces.

Glass Noodle / Pad Woon Sen

Cabbage, tomato, celery, wood ear mushroom, pickled garlic, white & green onions, egg

The most popular dish in Bangkok's Chinatown! Flat rice noodles wok-fried with egg, chicken, squid, and scallions over a bed of leafy green.

A medley of pork, squid, shrimp, napa cabbage, morning glory, celery, mung bean noodles, and egg with spicy fermented tofu dipping sauce.

Crab Noodle / Sen Jan Pad Pu

Thin rice noodles wok-fried with egg, lump crab meat, fresh chilies, sprouts, and chives.

Street Noodles

Egg noodles, grilled fatty pork collar, blanched greens, garlic oil, scallion, and crushed peanuts.

Egg Noodles with crab meat, bbq pork & crispy pork belly, homemade chicken dumplings, and bok choy.

Rice noodle, shrimp meatball, pork belly, garlic oil, green onions, green leaf.

The Main Event

Hainanese Fried Chicken Rice

Thai-Chinese street food with pork two ways, bbq pork and crispy pork belly, hard-boiled egg, jasmine rice and gravy

Thai Fried Omelet / Kai Jiew

Classic fluffy fried omelet with sweet basil and onion in seasoned fish sauce. Served with sriracha sauce.

Lightly deep fried catfish fillet with red curry paste, fingerroot, kaffir lime, jalapeño, and crispy Thai basil. (No substitution.)

Curry Classics

Chicken Yellow Curry/ Gaeng Gari Gai

Braised chicken, homemade yellow curry paste simmered with coconut milk, potatoes and carrots. Served with a roti and choice of rice.


Yellow curry paste, chicken broth, coconut milk, potatoes, and carrots. Served with roti and choice of rice. (no vegan option available)

Cali Jackfruit Curry

Homemade vegan red curry paste with coconut milk, jackfruit, market vegetables and Thai basil

Market Greens

Pak Boong Fai Daeng / Morning Glory

Wok Chinese eggplant with garlic, chilies, soy sauce, oyster sauce, and Thai basil.

Kanah Fai Daeng / Chinese Broccoli

Wok Kanah with soy bean paste, garlic, chilies, soy sauce, and oyster sauce.

Wok white cabbage with garlic, dried prawns and umami fish sauce.


Featuring bok choy, green bean, mushrooms, and cabbage with garlic in soy and oyster sauce.

Sides

Thai Sweet Snacks

w/ condensed milk and sugar flakes

with taro and young coconut meat topped with thick coconut milk. (dairy free)

Cold Beverages

Thai Iced Tea

Vegan Pandan Thai Iced Tea

Vegan Thai Iced Coffee

Jasmine Green Tea w/ Brown Sugar Lemonade
Frequently asked questions
What is the address of Tuk Tuk Thai (LA) in Los Angeles?
Tuk Tuk Thai (LA) is located at: 1638 Sawtelle Boulevard , Los Angeles
Is the menu for Tuk Tuk Thai (LA) available online?
Yes, you can access the menu for Tuk Tuk Thai (LA) online on Postmates. Follow the link to see the full menu available for delivery and pickup.
What are the most popular items on the Tuk Tuk Thai (LA) menu?
The most ordered items from Tuk Tuk Thai (LA) are: Pad Thai, Pad See Ew, Panaeng Curry.
Does Tuk Tuk Thai (LA) offer delivery in Los Angeles?
Yes, Tuk Tuk Thai (LA) offers delivery in Los Angeles via Postmates. Enter your delivery address to see if you are within the Tuk Tuk Thai (LA) delivery radius, then place your order.
Can I get free delivery from Tuk Tuk Thai (LA)?
Delivery fees for Tuk Tuk Thai (LA) vary. Just enter your delivery address to see the delivery fee for your location. You could always get free delivery from Tuk Tuk Thai (LA) with Postmates Unlimited.
Can I pick up my order from Tuk Tuk Thai (LA)?
Postmates offers pickup from many restaurants in your city. To see if you can pick up your order from Tuk Tuk Thai (LA), add items to your cart and look for the 'pickup' option at checkout.
Can I schedule a delivery order from Tuk Tuk Thai (LA)?
Some restaurants on Postmates allow you to schedule a delivery to show up at your location when you want it. At checkout, look for the option to select a delivery time. If it's there, that means you can schedule your delivery from Tuk Tuk Thai (LA).